Gross Science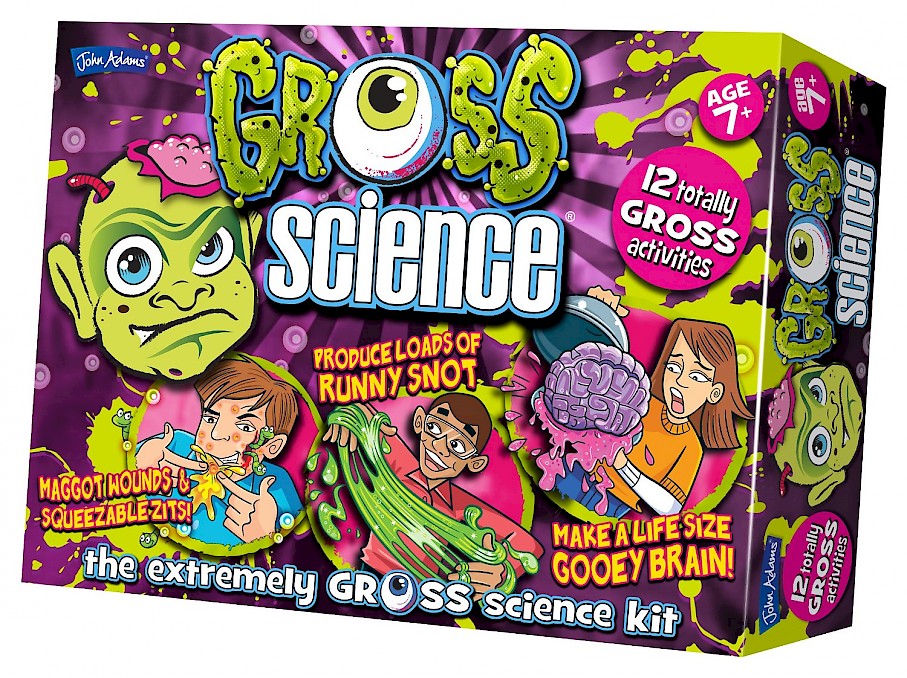 Pukesome!
This icky set of experiments will go down a treat for children into disgusting stuff (who isn't?), whilst remaining educational about how bodies work.
What's in the box?
Opening the box we found it full to the brim with all kinds of goodies for the 12 activities and experiments - so full in fact that it was difficult to put everything away afterwards. Gross Science comes with a detailed 20 page white-and-purple printed instruction booklet with diagrams and photos and explanations of what the activity or experiment is teaching. You can download the booklet directly from the manufacturer.
Experimenters are expected to provide some basic things that are often easily found around the house, like water, some food/drink items like sweetcorn, and less common things like Alka Seltzer tablets or equivalent, but almost everything else you need is included.
Safety
Like many science sets these days it comes with safety goggles - pretty good quality at that - the kind you'd find in many school labs. None of the experiments are particularly worrisome, but all will require adult supervision and a few are a stain risk.
Fun
So what did our in-house little scientist think of the set? Two thumbs up! She couldn't get enough and wanted to do every experiment as soon as possible! She liked the character, Stumpy the Odious Ogre, and especially enjoyed the bouncy eyeball experiment.
Would she recommend it to a friend? Yes.